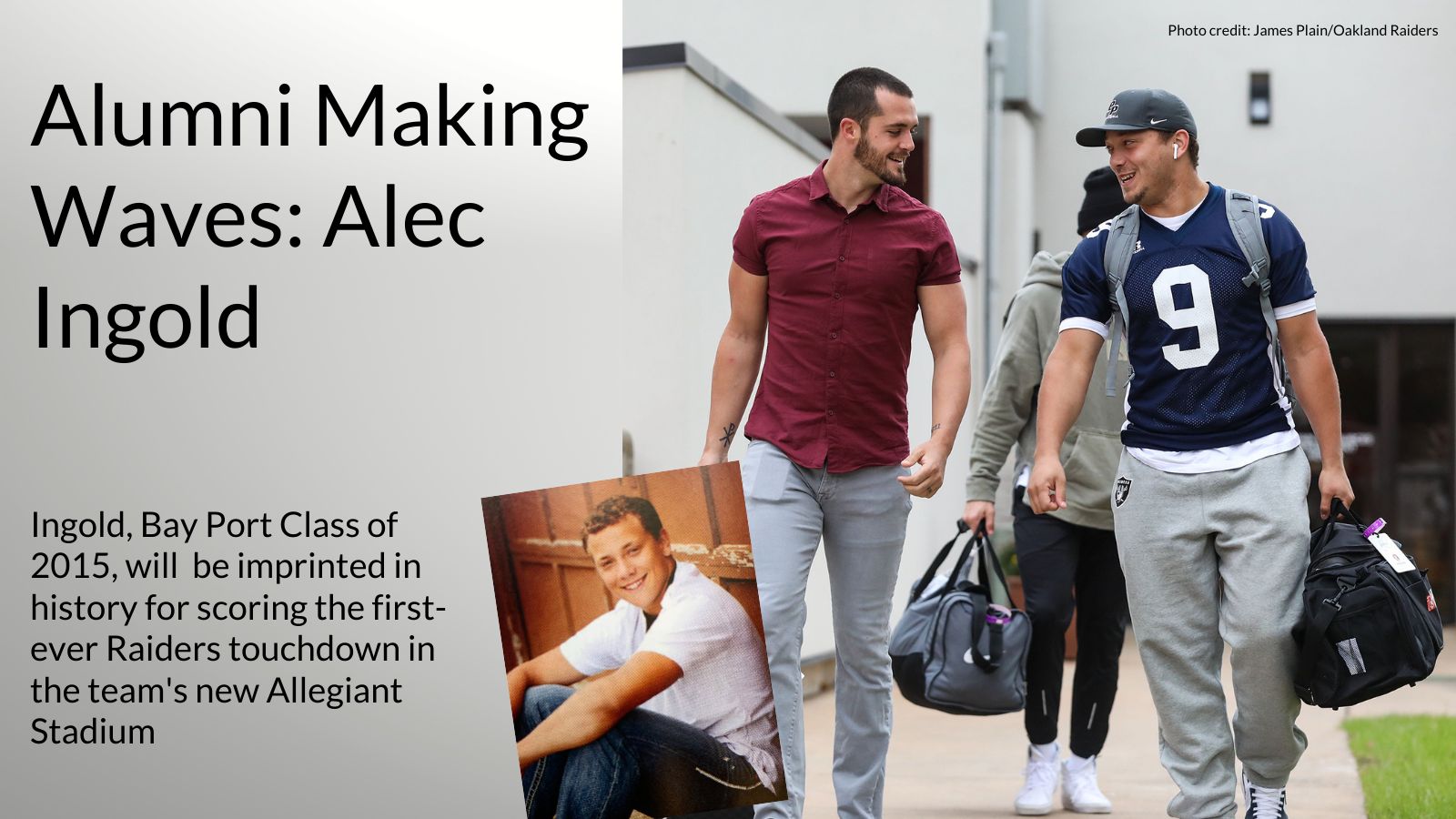 The Howard-Suamico School District has a proud tradition and many great Bay Port High School alumni who have become successful in a variety of fields who give back to their communities in many ways. The Alumni Spotlight is a way to highlight alumni who are Making Waves.
When talking about successful Bay Port alumni, it would be impossible not to mention Alec Ingold. A 2015 graduate and currently in his sophomore season in the NFL, this homegrown hero has certainly reached a pinnacle most can only dream of. However, during our discussion I was delighted to find him extremely humble, down-to-earth and very willing to take time out of his busy schedule to answer a few questions.
Alec entered the NFL as an undrafted free agent after graduating from UW-Madison in 2019. Currently calling Nevada home, Alec is a second-year fullback for the Raiders who recently transferred to Las Vegas from Oakland, California. When asked to describe a highlight or moment from his career to-date that he is most proud of, he replied "Scoring my first touchdown in the NFL last year was one of those "I made it" moments." That first touchdown came on week 10 of his first season while playing against the Los Angeles Chargers. Another notable Ingold touchdown came just this season, as he scored the first TD by a Raiders player in their new home, Allegiant Stadium.
I asked Alec if he had any teachers or coaches from his Bay Port days that had a lasting impact on him. His initial response was "Oh that's going to be a long answer, haha!" then "What's my limit?" When I told him there is no real word limit, he said "I love it" then went on to list the following names, along with a lesson they taught him outside of the classroom:
Coach Berna: Don't wait to be a leader. Do the right things, use your voice, keep yourself and teammates accountable.Mr. Buchinger: Patience and honesty.
Ms. Ferguson: Public speaking is a powerful tool that can bring people from all different backgrounds together.
Mr. Fitz: Competition in the classroom helps the good get better and the better reach their best.
Mr. Frieder: Support the people you come in contact with.  Don't be afraid to invest in the people around you.
Mr. and Mrs. Hebert: Believe in yourself and at the end of the day be the best person you can be.
Mr. Hansen: Money in the bank!
Coach Knutson: Enjoy the little things… even if it's Pizza Ranch.
Mrs. Krueger: Organize and find a plan of action that's best for YOU. Then stick to it!
Ms. Viegut: A smile and a laugh can go a long way.  You never know what the person next to you is going through.
Sor & Leland: Find joy in the daily grind, it's the only life you got.
Ms. Matuszewski: Business is about the people.  Good ideas can turn into great work with the right team.
Coach Noe: Breathe. 
Ms. Quinn: Reading someone else's written words can really help figure out your own life. 
Mr. Radish: Laugh at the little things and enjoy the moment.
Mr. Rettler: Confidently create.  There's a lot of great ideas outside of the box.
Ms. Richards: Every action has a consequence and an impact.  Your name is attached to every decision you make, so think it through!
Coach Shefchik: Be a champion before ever getting your arm raised.  Practice, nutrition, school etc. 
Coach Westerman: Be coachable.  Listen to those above you and sacrifice for the team, the individual comes after.
It sounds like Ingold took all of this good advice to heart. 
In preparation for the possibility of not being picked up by an NFL team after college, Alec had secured an internship with technology conglomerate, Oracle Corporation. When asked what he would be doing now if not playing professional football, Alec replied "I was going to be selling Oracle Software in Boston, MA." Not too shabby of a Plan B, but we're glad your Plan A is working out for you!
Alec currently resides in Las Vegas with his girlfriend and their golden retriever puppy.