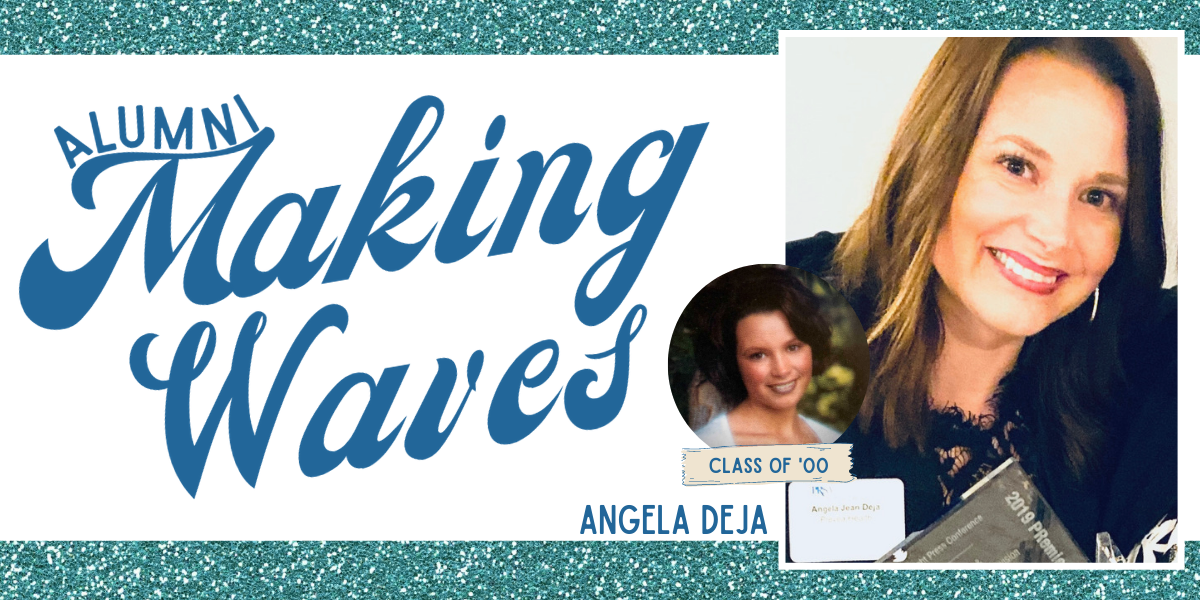 "Teamwork. Exhaustion. Ingenuity. Compassion. Frustration. Dedication. Leadership."
These are words Angela (Salscheider) Deja, Public Relations Manager for Prevea Health and six Hospital Sisters Health Systems (HSHS) hospitals in Wisconsin, used to describe this time in healthcare. The Class of 2000 graduate often has a front-row seat to witness how the COVID-19 pandemic is affecting the community as she's seen both the heartache and ingenuity that come out of a time like this.
"As a childhood cancer survivor, I have always seen doctors, nurses, and other health care providers as heroes – but this time has really galvanized that for me," Deja said. "Movie stars? Professional athletes? They're great! However, put me in a room with brilliant minds who dedicate their lives to saving others and I'm seeing stars."
Deja wears many hats as the Public Relations Manager. Deja explained, "The bulk of my role rests in media relations – assessing and responding to media inquiries, coordinating media interviews, writing and distributing press releases, analyzing/tracking media coverage, media/interview coaching, organizing press conferences and more." 
A key part of her role of late has been educating the community about the pandemic and her organization's response to it. "I struggle to find the words to explain how challenging it has been for anyone working in health care over the last year," she said. However, hope is on the horizon. "It was less than a year ago we were all first hearing the term COVID-19. Last week, we welcomed the Governor [Tony Evers] to tour our mass COVID-19 vaccination clinic on the campus of UW-Green Bay that was constructed by our teams in less than a week." 
Deja received her journalism degree from UW-Eau Claire. Upon graduation, she landed her first job as a producer for the CBS affiliate in Wausau. In 2007 she took a position as a morning live shot reporter and weekend morning anchor for FOX 11's Good Day Wisconsin in Green Bay. For nearly seven years, Deja's work days started as early as 3 a.m., sometimes earlier depending on the location she was scheduled to be in. "While the schedule was brutal, I had the opportunity to meet some incredible people and experience once-in-a-lifetime opportunities while working for FOX 11." 
After nearly seven years she moved on, becoming a media specialist with Prevea Health. "As Prevea Health and its HSHS hospital partners have grown throughout the years, I have been fortunate to grow along with them. I now help to manage the public relations for these incredible organizations, and am part of a remarkable team of marketing, public relations and communications experts," Deja said.
When asked to describe a memory from her Bay Port days, Deja reminisced about her time as an editor for Bay Port's school newspaper, The Portside. "I wrote a piece on the infamous "Pit" – the designated smoking area for students of age. It was an editorial piece, and I expressed my unfavorable views on it pretty openly. I didn't realize the backlash I would receive from so many of my fellow classmates, and it scared me. But it also empowered me," she said. "I had so many teachers reach out to me or make a point to come find me and say, "Great job," or "Thank you," or "This was a very brave thing to do." It's honestly an experience that has stayed with me, and today I try to never be afraid to speak up – even if my opinion or idea is the unpopular one."
Deja, her husband Nick and their 5 year-old daughter live in Suamico, near what she still refers to as "the new Bay Port."