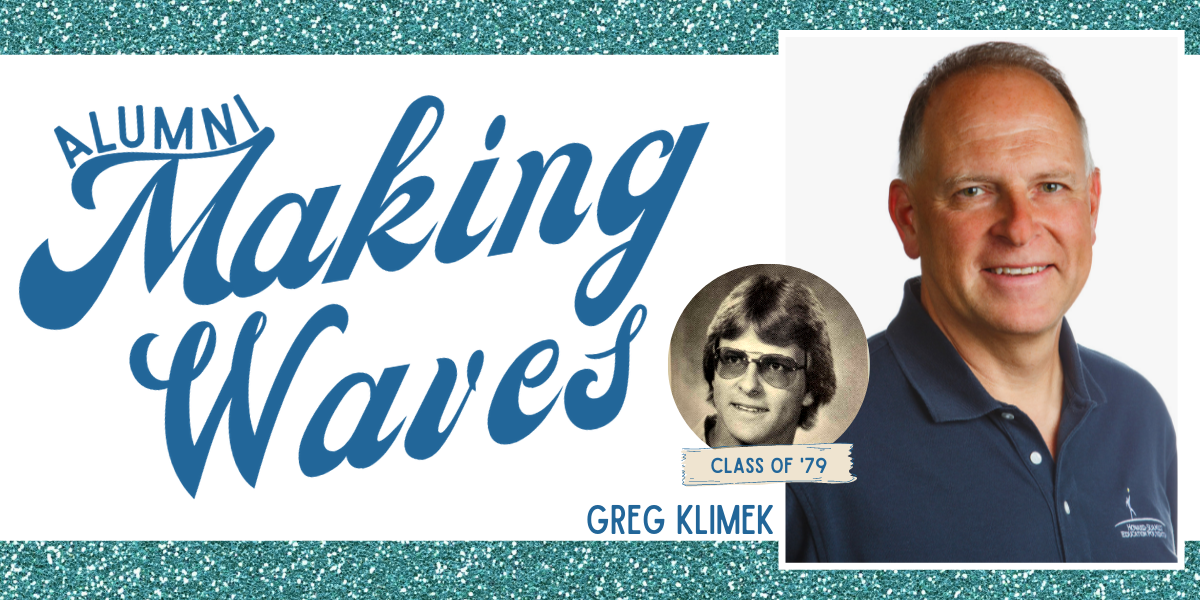 Recently retired after 35 years of business ownership and management, Greg Klimek (Bay Port Class of 1979) was elected to the Howard-Suamico School District Board of Education last week. In this week's Alumni Making Waves feature, get to know our newest Board of Education member.
 
You have served on various district committees in the past, including as president of the Howard-Suamico Education Foundation and chair of the last two referendum task force teams. What inspired you to run for school board this year?
My wife, three children, and I are all graduates of Bay Port High School and I have lived in the community most of life. One of my granddaughters attends Meadowbrook and another is on her way there in a year or two. I know that strong communities and strong school districts go hand in hand. I view joining the school board as a way to step up my contribution to the Howard-Suamico community.
How do you feel about your former high school building, now Bay View Middle School, getting a facelift as part of the referendum plan? Any nostalgia or fond memories there?
I met my wife in that building sophomore year! My buddy was going to ask her to prom, and I jumped in and asked her first just to give him a hard time. We ended up getting married.  

I was in choir, but I wasn't very good. One day we had a competition in De Pere, and I had to work right after, so I drove and met the bus there. When I got there Mr. Pufall said he forgot the music for the competition back at Bay Port, so I drove back to school to get the music. By the time I got to Bay Port, grabbed the music from his office, and got back to De Pere, I had just missed the competition. In the end, I think it was all planned by Mr. Pufall. 

What stands out about your journey from employee to owner of Klemm Tank Lines? 
I was surrounded by good people that I trusted. That's what built a great company. I started as a night dispatcher, one of about 35 employees. When I retired, we had more than 1,000 employees. I was able to keep growing in my roles and ownership became an opportunity. My favorite time was attending safety meetings and talking with drivers: learning and listening about the industry.
 
The Howard-Suamico Education Foundation has been especially impactful for our students and staff over the years. Any grants or projects that you're particularly proud of?
There are two projects that the HSEF supported that really stand out to me: robotics and the Esports team. I was really proud seeing the robotics students try to accomplish a set task with the investment we made. Their presentation to the Board of Education a few years ago was inspiring. Esports - I relate well to that group. To see these students work in teams and at events where they are really excited and enthusiastic: that's what it's all about.