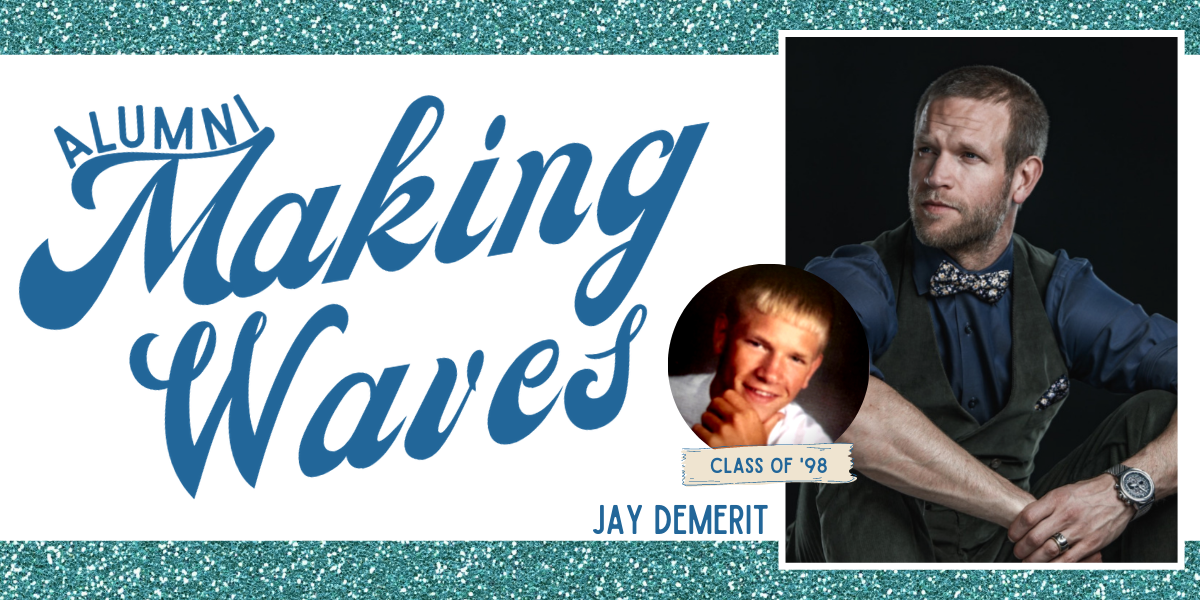 If you walk down the halls outside the Bay Port Fieldhouse, you will see a framed Team USA soccer jersey with the last name DeMerit on it. We caught up with Jay DeMerit for this edition of Alumni Making Waves to find out how the 1998 Bay Port graduate went from an undrafted hopeful to play in the pinnacle of his sport - the 2010 World Cup. 
DeMerit excelled as a three-sport athlete in high school, participating in basketball, track and field, and soccer. He went on to play college soccer at the University of Illinois at Chicago.

DeMerit said, "I really enjoyed my college experience down in Chicago at UIC. I finished my degree in Product Design, but my heart still felt I could make it in soccer." Though he played for the development team for the Chicago Fire in Major League Soccer (MLS) he was not drafted by any clubs following college graduation. 
"I didn't get drafted to the MLS in the states, but had a friend from England that invited me to go stay at his mom's house in London and try out for some lower league teams," he said. 
DeMerit started off playing in the 12th division, making about $60 a game.

"I improved over the first season, and by the following season I earned a contract with a first division team called Watford FC," he recalled. The team was once owned by its most famous fan, Elton John.
DeMerit went on to play almost 200 games and to become the captain of Watford FC before getting the honor to represent the USA in the 2010 World Cup in South Africa. 
"It was the greatest privilege to wear the stars and stripes - and represent Green Bay - on the world's biggest stage," he said. Team USA went on to win its first three matches before being eliminated in the second round of play. 
Prior to traveling to South Africa, DeMerit was approached by a couple of friends who were interested in making a documentary about his unlikely road to success. "They convinced me that if I made it to a World Cup after backpacking to Europe as an undrafted 23-year-old American, playing in the 12th division of the English soccer pyramid making 40£ a game, that the story was indeed rare and needed to be told."

With the help of Kickstarter, at that time, a new social media platform, they raised the money they needed to produce Rise and Shine: the Jay DeMerit Story in 2011. The film went on to play in theaters nationwide and was featured in national media outlets  like Sports Illustrated and ESPN.
Although the World Cup is considered the pinnacle of a professional soccer player's career, when asked to describe a particularly meaningful highlight DeMerit went back to a moment from his Watford days. "Scoring the goal and getting Man of the Match in the championship playoff final for Watford in 2005 was a big highlight. It was only my second professional season but that game really put me on the map," he said. 
It wasn't only scoring the goal that made this particular game memorable. DeMerit continued, "My family and friends were in the stands to enjoy the moment with me as well, not to mention scoring a goal in front of 65,000 people to get promoted to the Premier League was pretty awesome too!"
After the 2010 World Cup, DeMerit was named as the first player signed to Vancouver's fledgling MLS team, the Whitecaps FC. "I finished my career moving to the Vancouver Whitecaps where I served as Captain for four more seasons," recalled DeMerit. "It was an 11-year ride I was so fortunate to have lived." After numerous injuries, DeMerit announced his retirement in 2015.
DeMerit's retirement didn't mean his impact on the soccer world was over. He explained, "Working with the next generation has always been important to me. I had great mentors growing up, especially my parents and older brother. But as a captain in the two clubs I played for in my career, doing youth work was always built into the role."

DeMerit went on to start Rise + Shine Captains Camps, which offer elite soccer training in an adventure camp setting. These camps also focus on personal development, both on and off the field. "You meet so many kids that need more mentorship and support, so I wanted to develop a program that went beyond sport in a much more holistic way," DeMerit said as he strives to bring in  mentors from several fields to help round out this camp experience. 
The Rise + Shine Captains Camps have recently evolved. DeMerit founded the Rise + Shine Project which now includes the camps, a charity, and annual music festival. "Community is key, and our community is growing more and more every day through our programs, events and music festival, which I'm really proud of," he said. 
The Captains Camps have been held in five cities across North America, including Green Bay, and have served almost 1,000 kids. DeMerit goes on to say "It's just the beginning. Later this summer we are launching the digital program which is an app, with EA Games as our founding partner. So stay tuned!"
When asked to reflect on his days as a Bay Port Pirate, DeMerit said,  "Growing up with my dad as a teacher and coach in the Howard-Suamico School District, I had so many influences throughout my time there. Mr. Jameson and Coach Biolo were awesome examples of work ethic and always challenged me to be better as an athlete." He continued,  "I also remember Mr. Schadewald as a positive influence, always laughing and smiling around the school."
These days, DeMerit still calls Canada home. "I have a five year-old son named Oakes who loves drawing robots and living in the mountains near Vancouver." Though he's been residing in British Columbia for a little over a decade, DeMerit is a die-hard Cheesehead at heart, "I also still don't miss a Packers game no matter where I am in the world!"