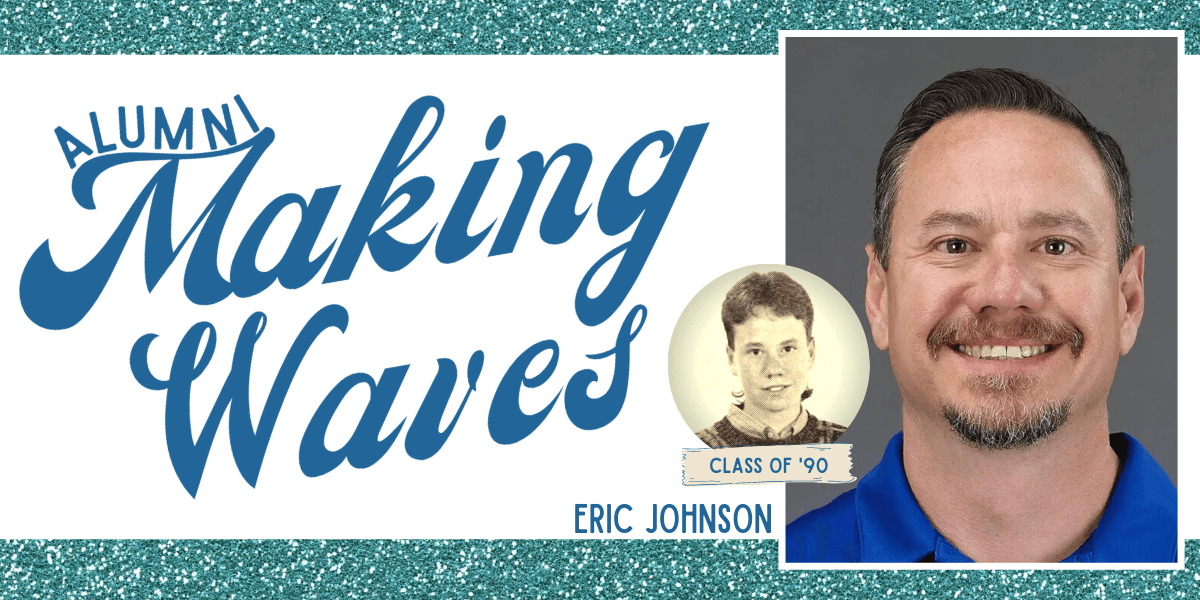 Eric Johnson is a graduate of Bay Port's class of 1990. He is currently CEO and CFO of Rev.1 Engineering, a research and development company that develops medical devices as a service for other companies. He has also earned more than 30 patents thus far in his career. Johnson has designed everything from a sagittal bone saw for knee replacement to an electric balance bike for young kids. 
His love of engineering and design started while taking Mr. Hamilton's drafting class at Bay Port. "My parents did not go to college, so I really didn't understand what I wanted to do (for a career), but I loved my drafting class with Mr. Hamilton." When Hamilton asked Johnson what he wanted to go to school for, his reply was drafting. 
"Over time he really mentored me and suggested I investigate Engineering," he said. Johnson credits Mr. Hamilton with setting him on the path to where he is today. "This was probably the most pivotal influence on my career choice, and I still am appreciative of his advice!"
Johnson went on to attend Michigan Technological University and graduated in 1995 with a degree in Mechanical Engineering. 
His engineering career began at Stryker Instruments, an orthopedic medical device company in Kalamazoo, Michigan. Johnson started as a manufacturing engineer and was promoted to senior design engineer in less than three years. It was during this time that he designed his first patented device, the Stryker sagittal bone saw used for knee replacement.
In 1998 Johnson moved to Temecula, Calif. to work for Guidant, a groundbreaking stent and pacemaker company. As a senior design engineer he specialized in working with physicians to develop minimally invasive delivery systems for stents and pacemaker leads. While here, he received many patents for Biventricular Pacemaker Lead Delivery Systems. 
In 2001, while still at Guidant, Johnson started his first business designing and selling off-road Jeep products and, in 2006, left Guidant to work on his Jeep business full time. "This was a fun but difficult time as the economy took a bad turn and my investment partners left us without funding," Johnson said. He eventually sold the company (now called Metalcloak) which is currently very successful and still sells many of his designs.
In 2007 Johnson joined forces with his business partner and created Rev.1 Engineering. "While running Rev.1 and growing to over 25 employees, we founded a few other companies and became owners in many of our clients' start-up medical device companies," said Johnson. In July of 2021 they sold Rev.1 to a large medical device company from Japan called Asahi Intecc. "I am staying on as CEO/CFO and Chairman of the Board and this acquisition is allowing us to expand and grow into manufacturing as well."
While leading Rev.1, he co-founded and became CEO of STACYC (pronounced stay-sick) in 2017, which manufactures an electric balance bike to help young kids learn how to ride. "We successfully sold that company to Harley Davidson in 2019," Johnson shared.
While reflecting on his career, Johnson said, "I really have been successful because I concentrated on what I was good at. I was willing to take risks, and hard work is worth more than degrees or book education." 
He further explained, "I had 17 jobs before I graduated college and they all taught me how to be a better worker.  College doesn't teach you everything or how to work." When discussing his strategies for success, Johnson said, "Nobody is good at everything so I always looked for partners and employees that could bolster my weaknesses and set us all up to soar with our strengths."
As an employer, Johnson also fosters the success of others. "The thing that I have always taken the most pride in is seeing my employees grow, and creating a fun, transparent and trusting work environment," said Johnson. "My employees and partners are more like a family than co-workers. If you take care of the ones around you, they will help you achieve your goals!"
Despite all of his professional success, Johnson considers his family his proudest achievement. He has been married to his wife, Deanna, for 20 years and together they have a 17 year-old daughter (Ella) and a 12 year-old son (Dane). They currently reside in Temecula, enjoy being outdoors camping and biking as well as spending time on their boat in San Diego.