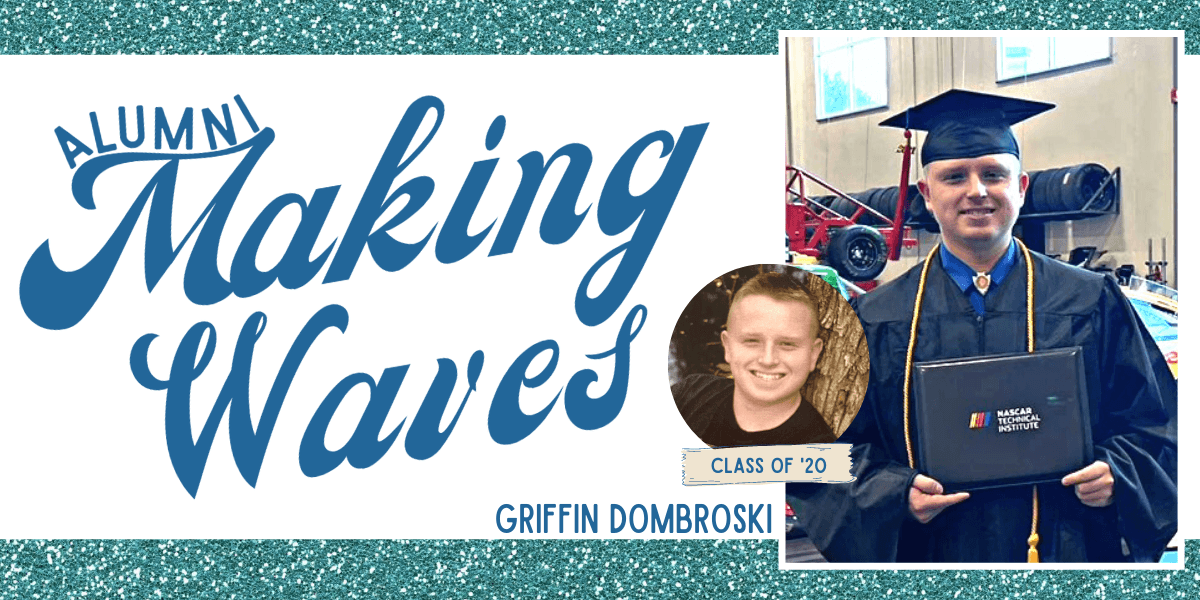 Griffin Dombroski, Bay Port 2020, recently completed the NASCAR Technician Training Program in Mooresville, North Carolina. The program is part of Universal Technical Institute (UTI), a provider of technical training for those seeking careers as technicians in the transportation industry. 
Griffin caught up with The Current to share what led him to participate in the program and to express gratitude for the HSSD teacher who pointed him in that direction.
Q: How did you know that NASCAR technician training was your calling after high school? 
A: To be completely honest, it wasn't my first thought to pursue any formal four-year education after high school, let alone the thought of an education at NASCAR Tech. I always had the thought of finishing school at a local tech school for welding. Then I started hearing of NASCAR Tech and was interested in checking it out. I looked up the school and saw that UTI has 12 campuses all over the U.S. I saw there was an open house at the Lisle, Ill. location and took the drive to see what it was like.
Q: What was your experience at NASCAR Tech School like? 
A: My experience at NASCAR Tech was great! I learned many useful skills and got to work alongside great instructors who have been in the profession for many years.
Q: Is there a Bay Port teacher who had a major influence on you?
A: Mr. Adam Cochart definitely made a major impact all four years I attended Bay Port. He showed pride in his teaching and always pushed us to accomplish anything we wanted to learn in class. Mr. Cochart went out of his way to find new ways to learn about different trades and occupations that we have locally. He invited companies and schools to do presentations for our class and to teach us more about their fields of study. 
I personally remember two trips we took as a class that got me hooked on repeating his class year after year. He brought us to the Local 400 to learn about all the opportunities they had. The second trip he took us on was to Marquis Yachts in Pulaski to see how everything we had learned in class was applied in the real world. After that trip I knew that I wanted to get into the welding and metal fabrication profession. He got me set up with an interview not even a week after our visit and, before I knew it, I got approved and fully completed a Level 2 Youth Apprenticeship working at Marquis Yachts, all thanks to Mr. Cochart's guidance and support. 
When my senior year came around, Mr. Cochart and I talked about post-high school ambitions. He gave me a list of people I could talk to about obtaining a degree after high school and that's when he got me connected with Tim Zoch at UTI/NASCAR Tech.
Q: What are you up to right now?
A: I graduated from NASCAR Tech in October of 2021 and moved back to Wisconsin. I currently have a full-time job at Auto Feeds, Inc. located in Howard. I am hoping to advance in the field of welding and metal fabrication.