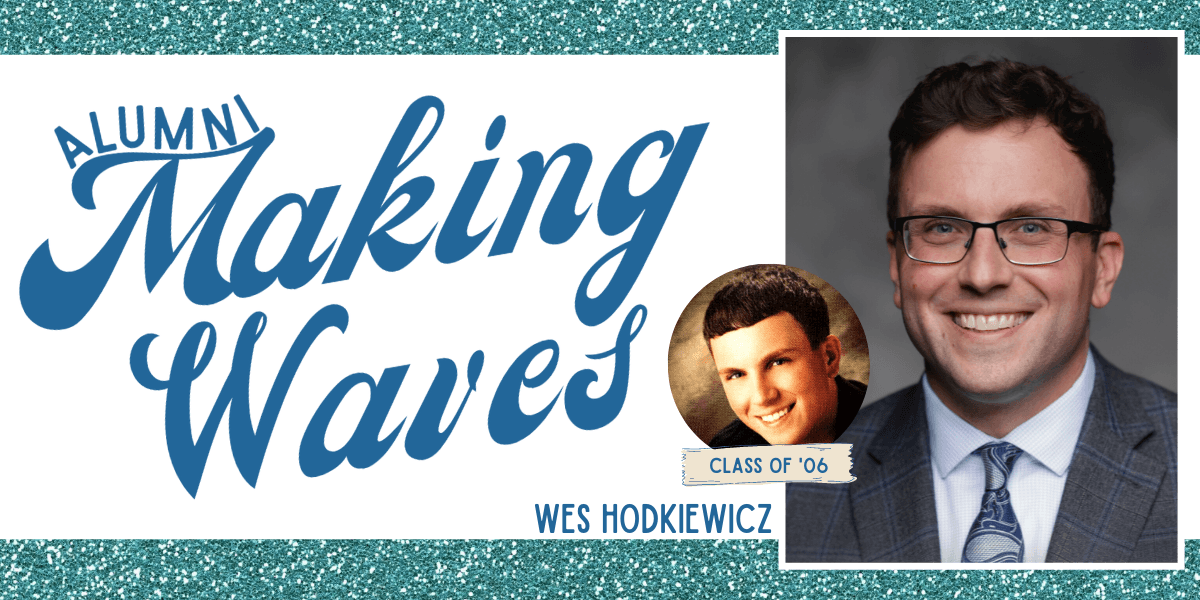 Wes Hodkiewicz is a digital reporter for the Green Bay Packers, beginning his 15th year in sports journalism. He started at the Green Bay Press-Gazette and spent 10 years covering his hometown teams for the newspaper before joining the Packers as a writer and on-camera reporter. A 2006 Bay Port graduate and a life-long resident of our community, Wes caught up with The Current and shared a powerful Packers story he covered.
How did you become a sportswriter?

I caught a big break the summer after I graduated from Bay Port. The Press-Gazette was in desperate need of a sports clerk to take prep scores at night. For four years, I went to the University of Wisconsin-Green Bay during the day and worked at the Press-Gazette at night, answering phones and writing two or three stories each week. This is where I have to give a quick shout out to Bay Port counselor John Vandermause, whose brother, Mike, was my sports editor at the Press-Gazette. I originally planned to work at the Press-Gazette for a year and then transfer to Milwaukee with now-wife Caitlin, who graduated from Bay Port a year after I did. It was a conversation I had with John that convinced me to stay in Green Bay and see where the job took me. He was right.

While it wasn't the most glamorous college experience, it put me in position to get a full-time job at the Press-Gazette the week after I graduated college. I was promoted to the Packers beat in 2012 and served as the Press-Gazette's No. 1 beat reporter during my final two years with the newspaper. In 2016, the opportunity presented itself to join packers.com, which my wife and I felt was the best long-term move for our family. Today, I write features and game stories, edit the Packers Gameday program, host the Packers Unscripted podcast and several other weekly videos on our website.

Mike Vandermause on Wes:
"Wes is a gifted story-teller who knows what his audience wants and consistently delivers it. His humble, good-natured spirit makes him the ultimate team player." 
While at the Press-Gazette, you were part of a groundbreaking video series, "The Insiders." What was that experience like to be at the forefront of sports coverage in terms of video storytelling?
"The Insiders" was one of my favorite things I did at the Press-Gazette because of how ahead of its time it was. All that credit goes to Tom Pelissero and Rob Demovsky. That was their brainchild. "The Insiders" did an exceptional job of combining Packers info and light-hearted comedy. I was only a main cast member during the sixth and final season, but it was so much fun. Unfortunately, we had some management changes and they weren't interested in continuing it after Rob left for ESPN but that show was one of a kind and will forever hold a special place in my heart. It was so fun and innovative.
Rob Demovsky on Wes:
"To me, one of the best things you can say about someone is they care, and that shows up in everything Wes does."
What is a memorable story that you covered?
I went down to Elizabethtown, Ky., with one of our videographers in April 2019 to do a story on former Packers tight end Mitchell Henry, who passed away in 2017 at just 24 years after a seven-month battle with acute myeloid leukemia. We have undrafted players who come through the locker room every year but I felt a strong connection to Mitchell from the start. At the end of the training camp in 2015, I jokingly told him that I'd go down to Kentucky and catfish with him if he made the 53-man roster. I recounted that story in our Insider Inbox Q&A shortly after Mitchell's passing and his father, Terry, reached out and invited me to go catfishing with him. It was Terry's first time going since Mitchell's death. The jug we used to bait the line was the same one Mitchell used, complete with his phone number and identification if the DNR showed up. We documented the entire trip both visually and in written form. The project was nominated for a Midwest Emmy but really it meant so much more to me than an award. It was a very personal project and it's something I'll cherish the rest of my life.
Who was influential in your life while you were a student at Bay Port?
How long do I have? There were so many people and I'm sure I'm going to regrettably miss some. As far as my career goes, Mr. Eric Sorensen had the greatest impact on me. Everything I've done in journalism began in his sportswriting and creative writing classes at Bay Port. The latitude he afforded me in those classes not only helped me find my voice as a writer but also gave me the confidence to share it with others. There are no words to describe just how important that is to a teenager.

Mr. Bouchonville was such a terrific history teacher and orator. He had such a huge heart. I loved his classes. If I didn't go into journalism, I likely would've ventured in that direction because of him.

I also owe a debt of gratitude to Mr. Krznarich, Mrs. Koglin, Mrs. Johnson, and Mrs. Halverson-Misco, as well. I was part of the Cousteau House during my eighth-grade year at Bay View. That was a huge year of personal and academic growth for me. At the end of the school year, the teachers picked a couple students to honor and I was one of them. They gave me a Jacques Cousteau book I still have to this day and wrote a few comments on how they feel I have a bright future. It was a simple gesture but I hope each of them know how much that meant to me. I felt like I was eight-feet tall going into high school.

I also had tremendous guidance counselors in Mrs. Bahrke and Mrs. Krueger, and amazing teachers such as Frau Kramer, Frau McGrane, Mr. Stubbe, Mr. Buchinger, Mr. Shefchik, Mr. Fitzgerald, Mr. Williquette, Mrs. Bailey, and I could go on and on. Teachers are so incredibly important and I am eternally grateful for those in the Howard-Suamico School District who empowered me.

Finally, I have a quick acknowledgement to Mr. Mike Frieder and Mr. Otis Chambers. Otis is a legend and embodied everything that was great about our school district. To this day, his friendship means so much to me. Mike is the best principal in the state of Wisconsin. As someone who still resides in Suamico, I commend Mike for how he's led his school with integrity, vision, and grace.

Wes resides in Suamico with his wife, Caitlin Fitzgerald-Hodkiewicz (Bay Port Class of 2007), and their three-year old son.