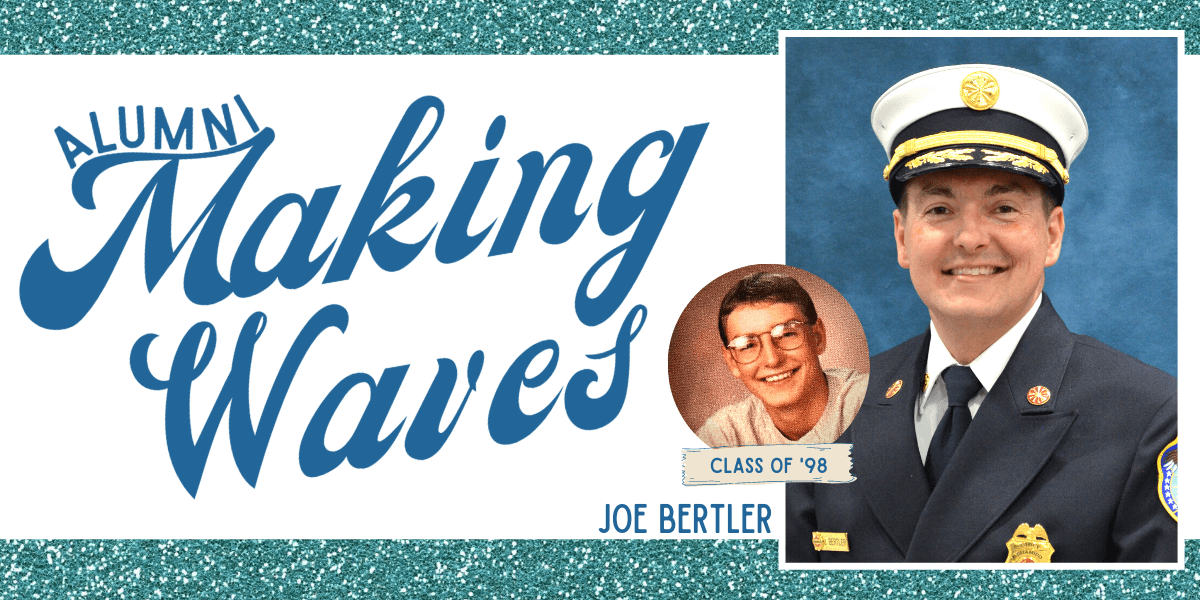 Joe Bertler, Bay Port Class of 1998, is the Fire Chief/Emergency Management Director at the Village of Suamico. A fierce advocate for public service, Bertler most enjoys acting as a leader, teammate, and visionary in this community. 
In addition to his role as Fire Chief, he is the accordion player in The New Generation polka band, which travels the state and nation sharing its snappy polka beat. Bertler said, "I compare polka music to firefighting in that they both are brother- and sister-hoods of friends and family."
Click here to view Bertler's magazine-style feature.
What led you to your role as Village of Suamico Fire Chief?
The job of a Fire Chief isn't won over in an interview. You receive this job only with years of quality service in the fire industry, and by demonstrating responsibility and leadership along the way. 
This position is surprising, challenging, and rewarding every day. I started my public service career at Ashwaubenon Public Safety as the lead Fire Inspector. After seven years, I was fortunate to land a Battalion Chief position with Bellevue Fire & Rescue. In 2020, the Suamico Fire Department Fire Chief position opened up and I was blessed to have been selected Chief of my hometown community. It is rewarding to serve the village that raised you.  
What do you enjoy most about your job?
This may sound lame, but you are not just a Fire Chief. You are a leader, counselor, therapist, coach, facilitator, listener, strategist, change-agent, visionary, delegator, team member, influencer, and decision-maker. Besides being challenged every day, you get to go on fire calls.  
What do you find most rewarding working in your home village?
The most rewarding parts of this job are working for the community I've lived in and the people I get to work with. Having grown up in Suamico, I am fortunate to have the opportunity to give back to my community by means of Public Safety. While Suamico continues to grow, it excites me to be able to lead firefighters who are just as thrilled about making their community a safe place to live in.
After a year-long break from many community events, what did you enjoy most about the December 4 holiday parade?
Especially after COVID-19, the Holiday Parade helps heal the community by bringing back a sense of normalcy. I remember attending the Christmas parade when I was a kid, and I remember our community getting together to celebrate the beginning of the Christmas season with floats, handing out candy, and seeing the local businesses' creative floats. There was always a sense of unity during events like that, and it's very nice to be able to get back to that this year.   
Suamico is developing. What are your hopes for the future of the Village of Suamico? 
It is exciting to think about where Suamico will be in 10-20 years, but with growth comes challenges. We cannot lose sight of the fact that citizens are our customers and we are accountable for them. Having a brand new state-of-the-art building will assist us in serving our community for 50+ years.     
We hear you are in a polka band! How did polka music become an important part of your life?  
My family has always been involved in polka music. My dad, Jim Bertler, started off playing in the Mike Ryba Band and later on played with the Polka-Dets Band. I used to hate polka music when I was young, however, as I started getting older and learned how to dance the Polish hop, I realized it was a good way to meet a lot of new friends. 
I compare polka music to firefighting in that it is a brother- and sister-hood of friends and family. My dad always stated that "if you're a polka person you're a good person." I really think it is true. Polka people are happy and lively, just like the music. 
How did your Bay Port education set you up for the professional success you are experiencing today?  
The experience that I had gained throughout my high school career taught me the basic fundamentals for being successful. From time management to following directions, using teamwork, communicating clearly with peers and instructors, organization, and more.
As Fire Chief, what do you enjoy most about partnering with HSSD? 
As the old cliche goes, "It takes a village to raise a child." I truly believe it does take an entire community of people to interact with children in order for them to grow in a safe and healthy environment. The change needs to be with adults because when children see us working together, respecting and nurturing each other, and truly working in their best interest, the "village's" children succeed.  
Quick Facts:
Elementary school: Suamico Elementary
Favorite high school class: Social Studies
Favorite high school teacher(s): Mr. Biolo, he not only enjoyed his students but had a passion for teaching
Favorite high school memory:  Even though I wasn't on the football team, winning our first football game in my junior year after going 0-29.  
Favorite polka song: Too Good to Be True
Member of Polka band: The New Generation
Polka instrument: Accordion
Favorite community event (speaking as fire chief): 
Fire Department open houses: this shows the community how the department operates and promotes a family atmosphere.  It's the public's chance to meet the talented firefighters of the Village of Suamico and learn about what it takes to be a firefighter. 
As we journey through the holiday season, what tips do you have for residents to avoid fires in their homes?  
We see a huge increase in house fires during the winter months: December and January specifically.  According to the National Fire Protection Agency, the number one cause of house fires is unattended cooking.  We all know that between Thanksgiving and the New Year, people love to eat those pumpkin pies.  Christmas trees also present a danger.  Nearly one in five Christmas trees are ignited by faulty decorative lights or extension cords. Having a well maintained fire extinguisher in our residents' homes could decrease the odds of major damage caused by ignition exponentially. It is also important to keep your Christmas trees watered and tree lights unplugged when no one is around.