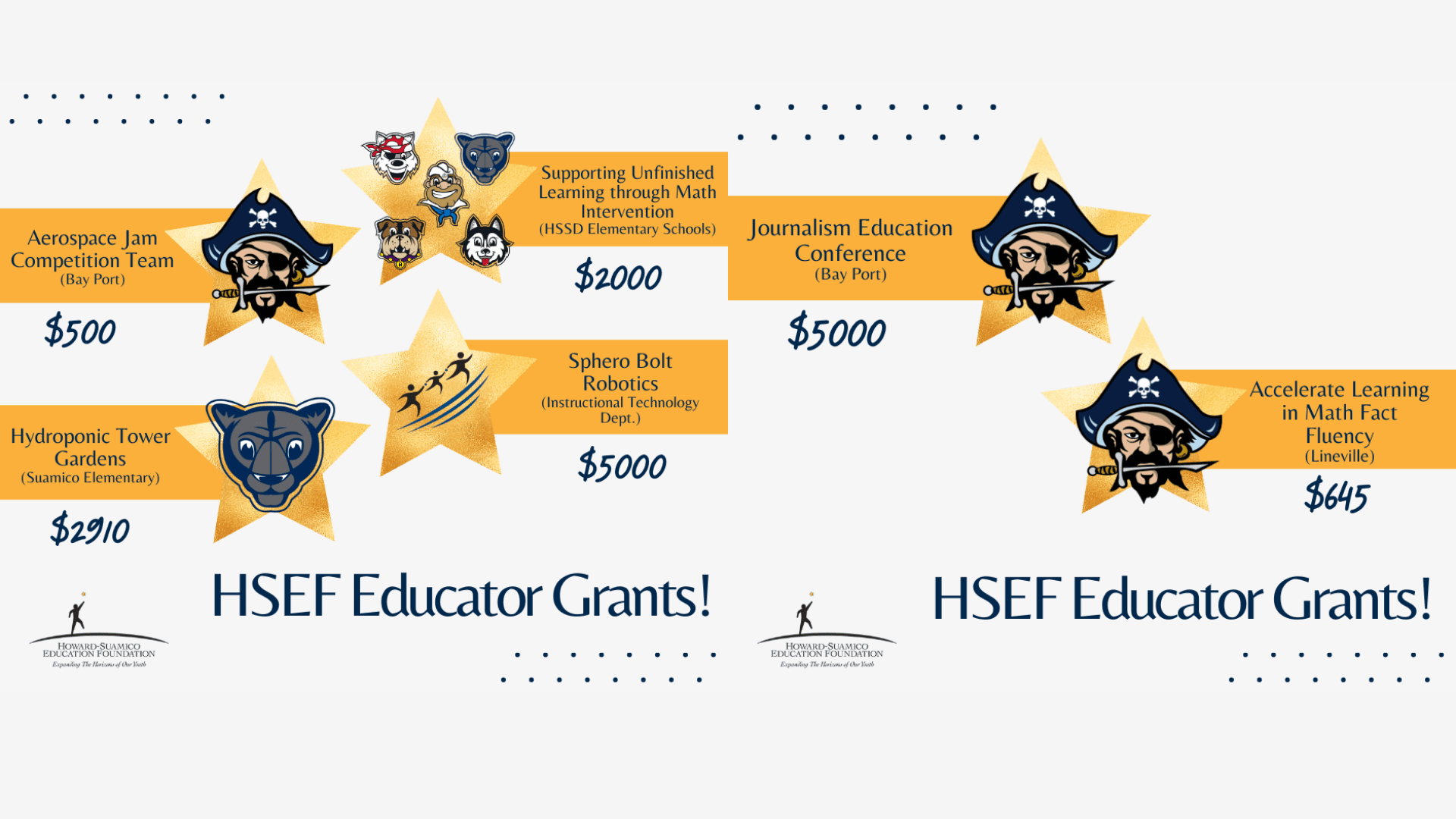 The Howard-Suamico Education Foundation is excited to announce the fall round of our 2021-2022 HSEF Educator Grants. 
Thanks to our donors, we have awarded six grants totaling $16,055! Thank you to all our donors who make awarding these grants possible. Your gift creates amazing opportunities for Howard-Suamico School District students and classrooms.
Congratulations to all of our grant recipients! We can't wait to see your grants in action.

Educator Grants:
Supporting Unfinished Learning in Math Intervention (Elementary Levels) - $2,000

This grant will be used to purchases supplemental resources for two new Math Interventionist positions created in the district to address unfinished math learning. 
Aerospace Jam Competition Team (Bay Port High School) - $500
This grant will allow Bay Port computer science students to participate in the Aerospace Jam, a competition where high school teams across the state use drones on a NASA Artemis-inspired simulated moon mission. Due to the competitive nature of this project and the use of cutting edge technologies in a high-stakes simulation, students and educators will see what calculated risk-taking looks like and how much students can learn from a co-curricular project.
STEAM Learning Solution with Sphero Bolts (District-Wide) - $5,000

This grant will provide 30 Sphero robots and training for 20 teachers to explore a variety lessons and activities for K–6 to teach computer science and programming in the core curriculum at the elementary level.
Suamico Elementary Tower Gardens (Suamico Elementary) - $2910
This grant will provide three tower gardens to be centrally located Suamico's LMC/Solutionist area providing year-round multi-curricular learning opportunities for all students to explore learning in not only the real world, but their world.
Accelerate Learning in Math Fact Fluency (Lineville Intermediate) - $645
Throughout the pandemic, math fact fluency has been observed as a gap in transfer to mathematics learning in Grade 5. This grant will purchase resources to accelerate math fact fluency learning.
Journalism Education Association Convention - (Bay Port) - $5,000
This grant will support the Bay Port High School Journalism department in attending a national journalism conference for the first time with the goal of them continuing to build Bay Port's nationally recognized and award-winning newspaper, yearbook, and literary magazine which benefit our school, district, and community.