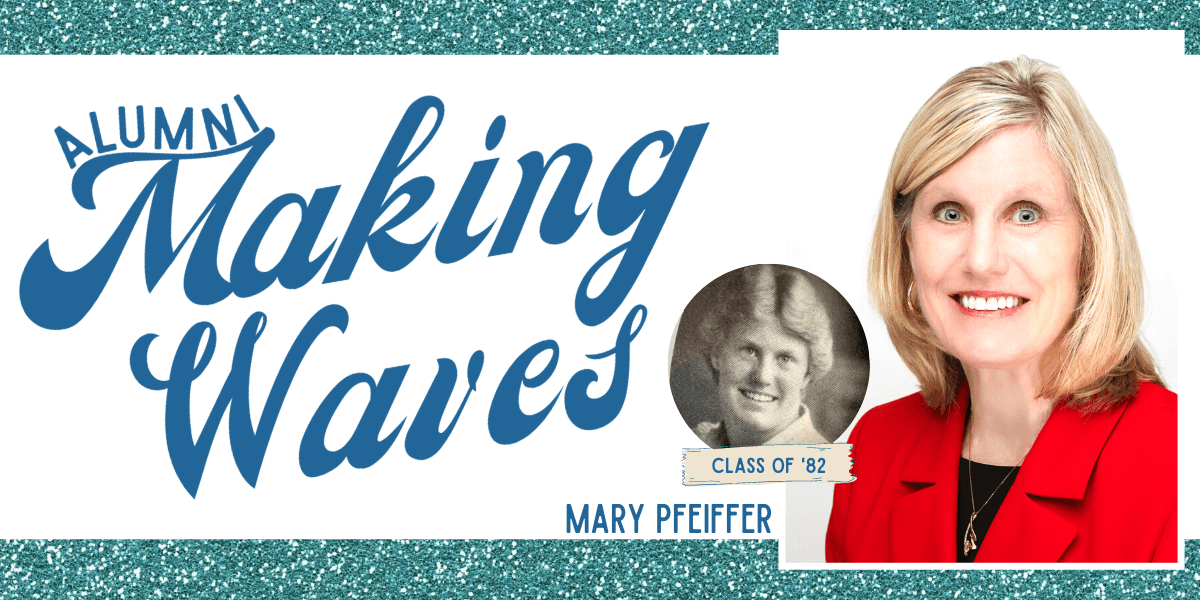 NEENAH WITH PRIDE
Bay Port alumna Dr. Mary Pfeiffer Named Wisconsin State Superintendent of the Year
Click here to view Dr. Pfeiffer's magazine-style feature.
A non-traditional career path in education led Dr. Mary (Johnson) Pfeiffer, Bay Port Class of 1982, to a leadership role as Superintendent of the Neenah Joint School District where she was named Wisconsin State Superintendent of the Year last fall and will be honored with the award at the annual state education convention January 20, 2022. 
She will carry a strong sense of community pride with her to the award celebration this week.
"At the core of it all, we have families who care about kids," said Pfeiffer. "We say 'Neenah with Pride'  because when you're here you just feel right. We have to make sure that we all contribute to that."
Pfeiffer's contributions to education have been diverse and numerous during her career.
After two successful seasons on the softball diamond at Bay Port High School, Pfeiffer played at UW-Whitewater, and took great pride in joining her siblings as the first generation in her family to attend college. She majored in criminal justice and sociology. Her professional career began in juvenile corrections where she also taught police officers at Northwest Wisconsin Technical College. 
After earning her teaching license at UW-Green Bay, she taught at Ethan Allen School, Wisconsin's oldest maximum security juvenile detention facility. She met her husband Jim when the two were on the teaching staff there. Returning to the Green Bay area, Pfeiffer opened the CESA 7 alternative school for students who were not succeeding in a traditional school setting. Her husband briefly taught at Bay Port, his wife's alma mater, during that time.
Pfeiffer then made the step to high school administration as an Assistant Principal at Neenah High School. While serving in administrative roles in Stevens Point and Green Bay, Pfeiffer completed her doctoral studies in Educational Leadership and Policy Analysis at UW-Madison. She returned to Neenah in 2009 to lead the district, where she has served as Superintendent since.
Pfeiffer recently led a successful $114.9 million referendum campaign to build a new Neenah High School, which is scheduled to open to students in the fall of 2023. The path to a transformational new school was not without hurdles, however, as the initial plan was turned down by voters.
"What it (the referendum loss) taught us is that you really, as a leader, need to be able to take disappointment and catapult it into something better," said Pfeiffer. "I learned that from coaches at Bay Port and Bay View. How to lose with grace. The process was challenging, and the results will be pivotal for our students and community."
As Pfeiffer accepts the Wisconsin State Superintendent of the Year award in Milwaukee among family, friends, and colleagues, she will be joined at the ceremony by two special mentors: former Bay Port teacher Terry Martin and former Bay View Middle School teacher Karen Ries.
Pfeiffer also credits her parents with the foundation of her success. 
"Even though she went to Green Bay West, my mother is a proud Bay Port Pirate to this day," noted Pfeiffer with a smile. "She knows all five of her kids had great teachers at Bay Port and she is very proud of our opportunities and accomplishments."