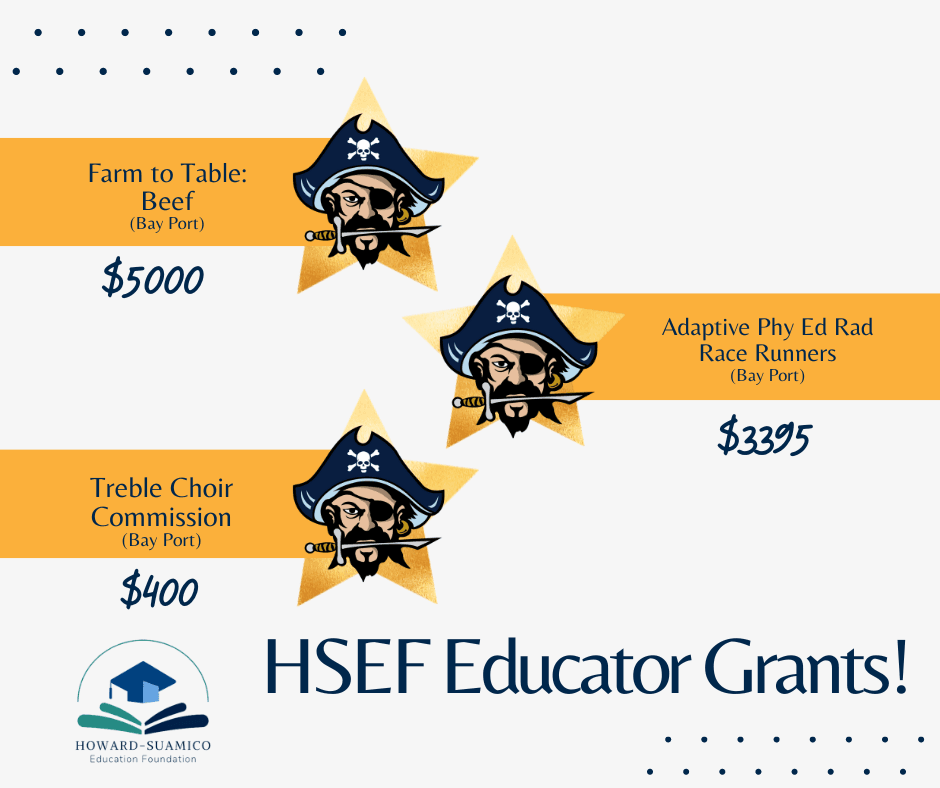 The Howard-Suamico Education Foundation is excited to announce the first round of our 2022-2023 HSEF Educator Grants. 
Thanks to our donors, we have awarded three grants totaling $8,795! Thank you to all our donors who make awarding these grants possible. Your gift creates amazing opportunities for Howard-Suamico School District students and classrooms.

Educator Grants:
Farm to Table: Beef (Bay Port Agricultural Education Department) - $5,000

This grant will be used to purchase communal supplies that will allow students to raise livestock from young to market ready for the county fair which requires dedication, determination, budgeting, respect, responsibility and pure grit. 
Treble Choir Commission (Bay Port Music Department) - $400
This grant will allow Bay Port to commission St. Norbert faculty and composer, Dr. John Hennecken, to arrange the music for "I Love, My Love" by Gustav Holst, composer of the famous orchestral work, "The Planets." He will arrange the music and present to the class as a guest speaker. Additionally, the composer will compose a completely original work.
Adaptive Phy Ed Rad Race Runners (Bay Port Physical Ed Department) - $3,395
This grant will allow the Bay Port Physical Ed Department to purchase Rad RaceRunners to allow students that struggle with independent mobility issues to move independently and not rely on others pushing them in a push cart/stroller. The Rad RaceRunners will be used by students in many outdoor community outings.
Congratulations to all of our grant recipients! We can't wait to see your grants in action.