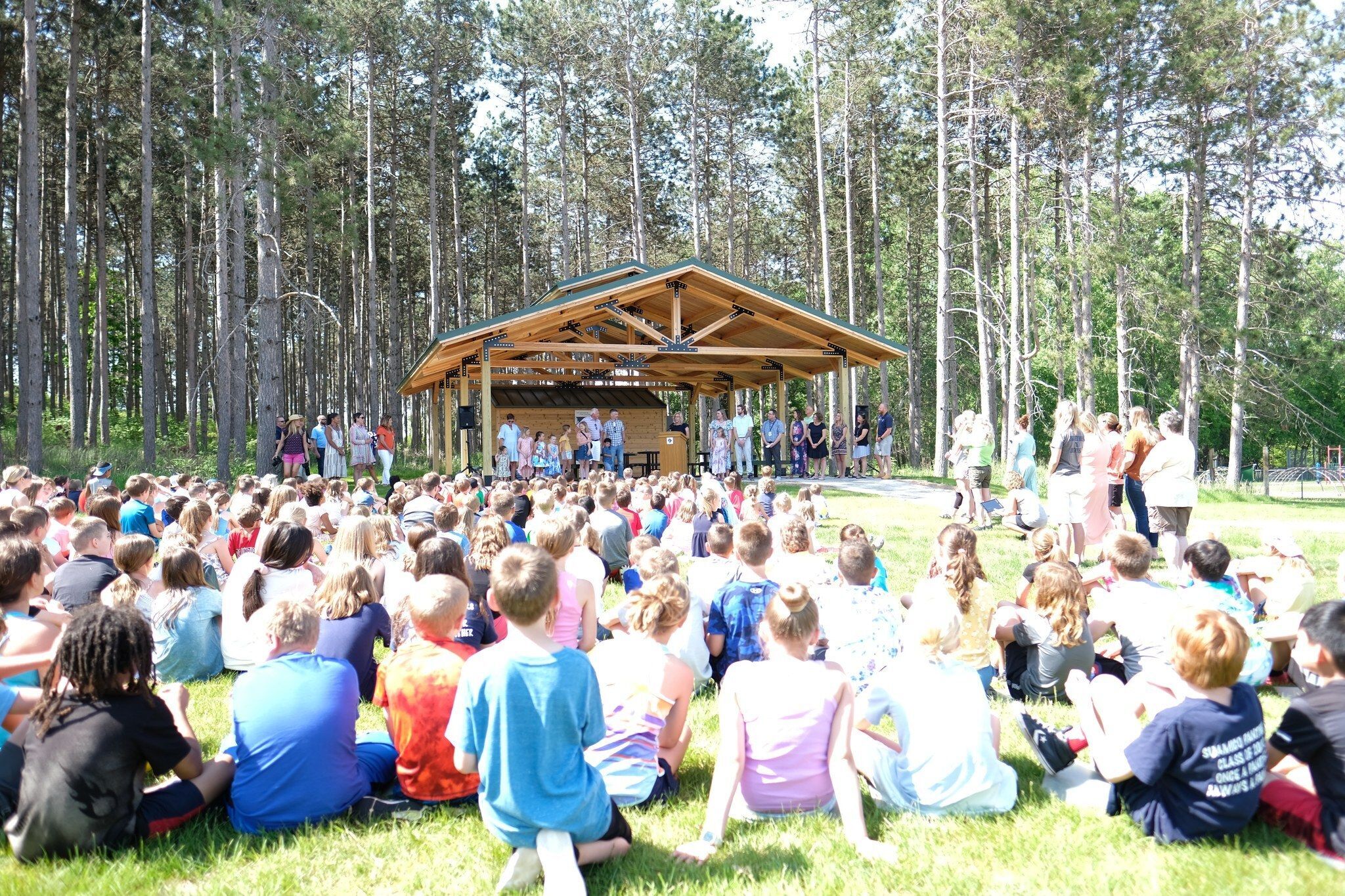 On Thursday, June 1, a ribbon cutting ceremony took place to mark the opening of a new outdoor pavilion to aid in student learning at Suamico Elementary School. This pavilion was donated to the school by the Hmielewski and Kolaszewski family.
An all-school assembly was held to celebrate. Because of this gift, Suamico students will have the opportunity to have hands-on, outdoor learning experiences right on the Suamico Elementary campus.
Outdoor learning provides numerous benefits to student learning:
Being in an outdoor environment encourages active learning and engagement. Students will have the opportunity to explore, experiment, and interact with the natural world! Not only will this be fun, but it will help them to understand many subjects.
Outdoor learning engages multiple senses, such as sight, hearing, touch, and even smell. The pavilion can serve as a space for sensory-based learning activities that awaken different senses. This leads to better retention and understanding of concepts.
Spending time outside makes students feel connected to the earth and to appreciate the environment around them.
Outdoor learning supports students' physical and mental well-being. Natural light, fresh air, and exposure to green spaces have been shown to reduce stress, increase focus, and enhance overall mood.
It inspires creativity, collaboration, discussion, and analytical skills. Here, as part of our Graduate Profile, students will be solutionists and critical thinkers.
Overall, this outdoor learning pavilion will provide a dynamic and stimulating environment that enhances student learning!
A donation such as this is one example of how generous gifts and partnerships can make a world of difference in our students' education.
Our vision at HSSD is to provide students with an authentic, innovative, connected, and inspired experience so that they succeed in an ever-changing future. We are grateful for the Hmielewski and Kolaszewski Family and all who partner with HSSD who give our students the opportunity to do just that.